ficus carica 3 ways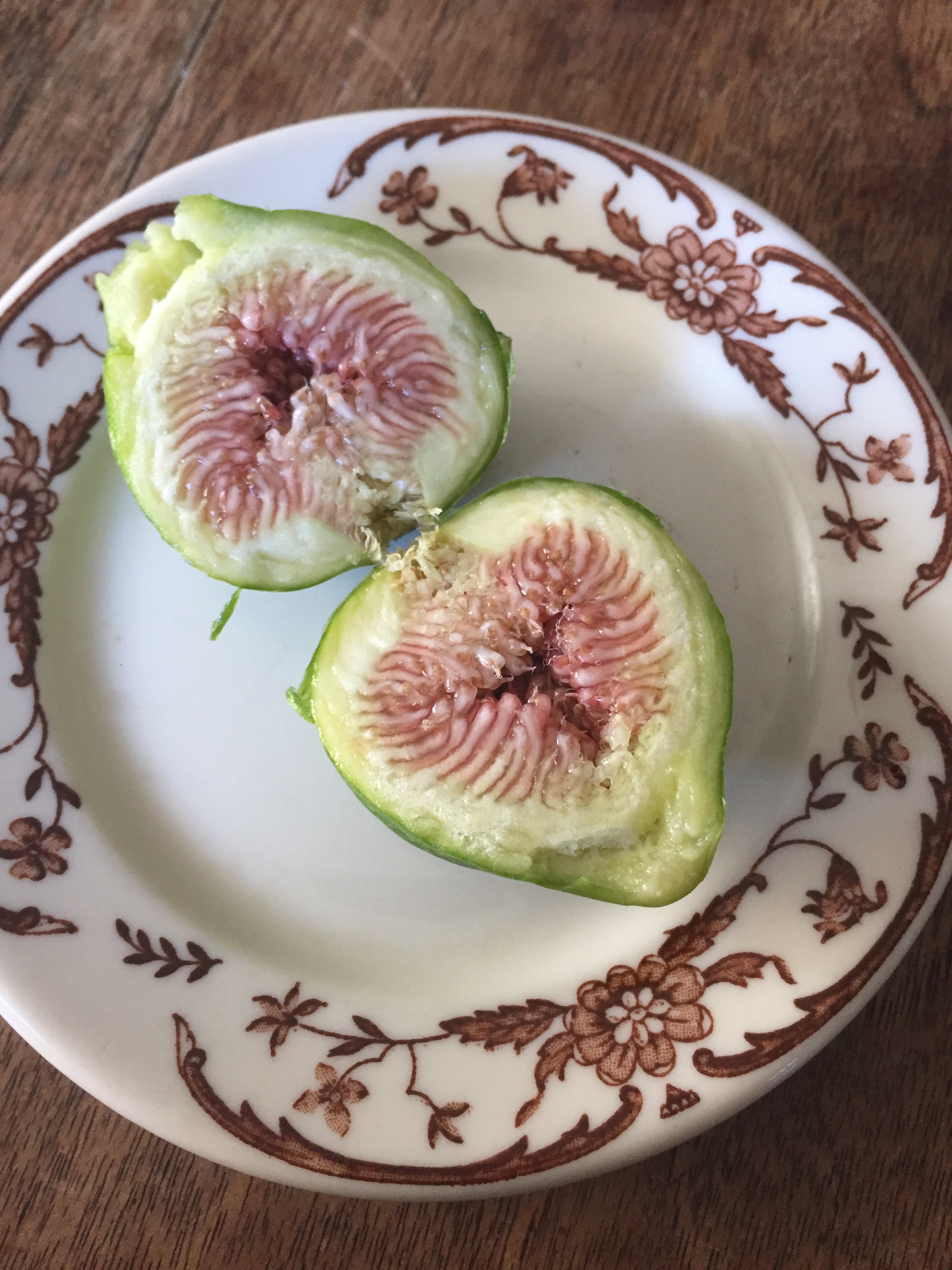 Your childhood memories of Fig Newtons are a distant cousin to the fleshy, fresh, lightly sweet experience of a just-picked fig. The fig has been known to cause blushing in some and tactile fascination for others. Most agree, this is a sexy fruit.
Instead of forming after bloom, fig fruits get their start as miniature fig nubs sprouting right off of branches. They ripen into drooping, heavy bulbs after a couple of months (typically late July in my area) and are ready to pick once soft and pendulous.
Filomena Farm is seeing a good July crop, and the promise of September figs is well underway with the second set of budding fruits. But what to do with all the figs!?
My first move is to just eat a fig right off the tree, skin and all. Second, I slice a few and drizzle balsamic dressing, maybe add a little Gorgonzola crumble, and then devour. There are so many more ways to eat fresh figs! But alternately, there are some great ways to get cooking with figs. This week, I made three delightful preparations: Lumpy Fig Jam, Caramelized Fig Chutney, and Bacon-swaddled Chevre Pecan Figs.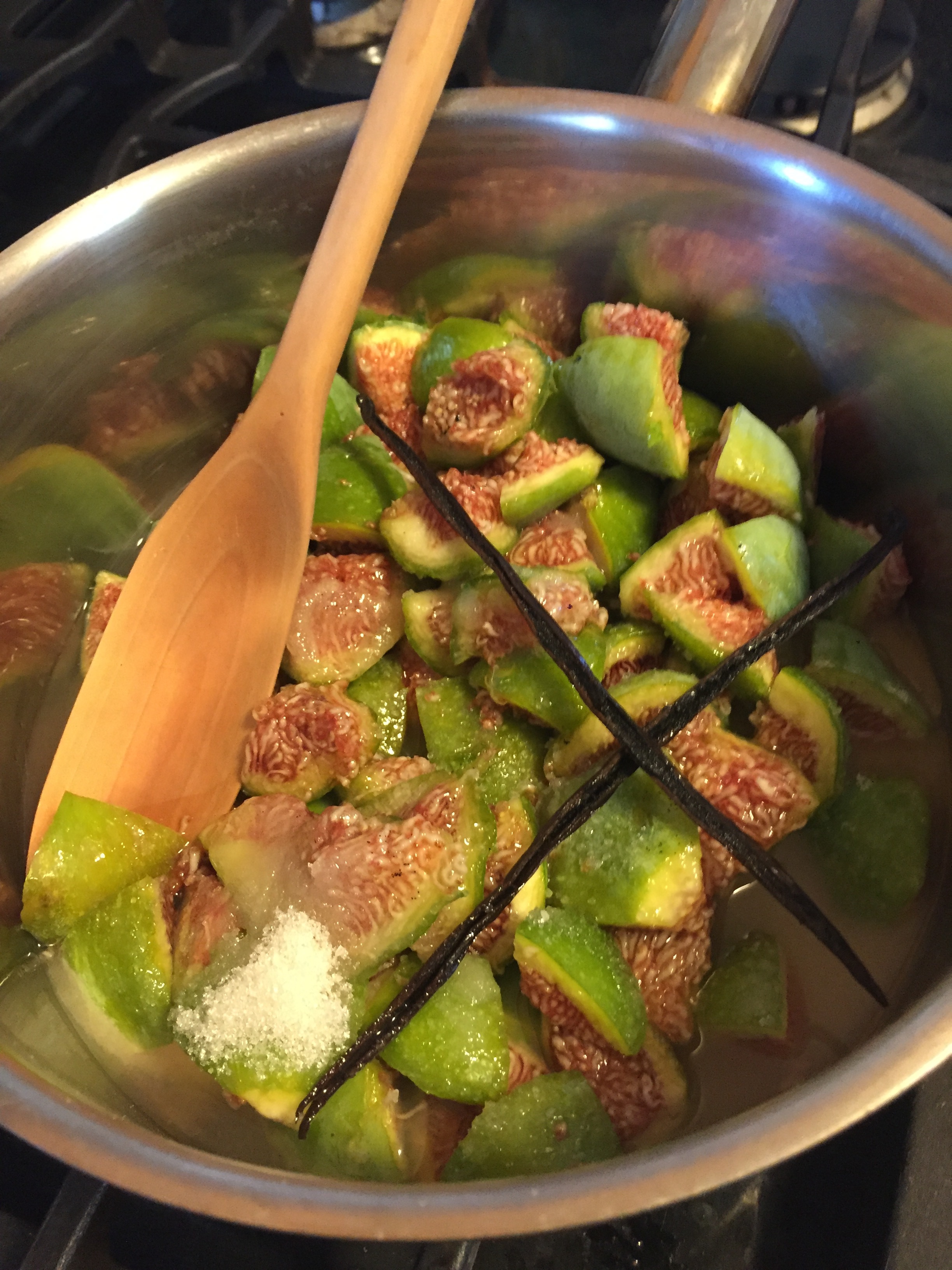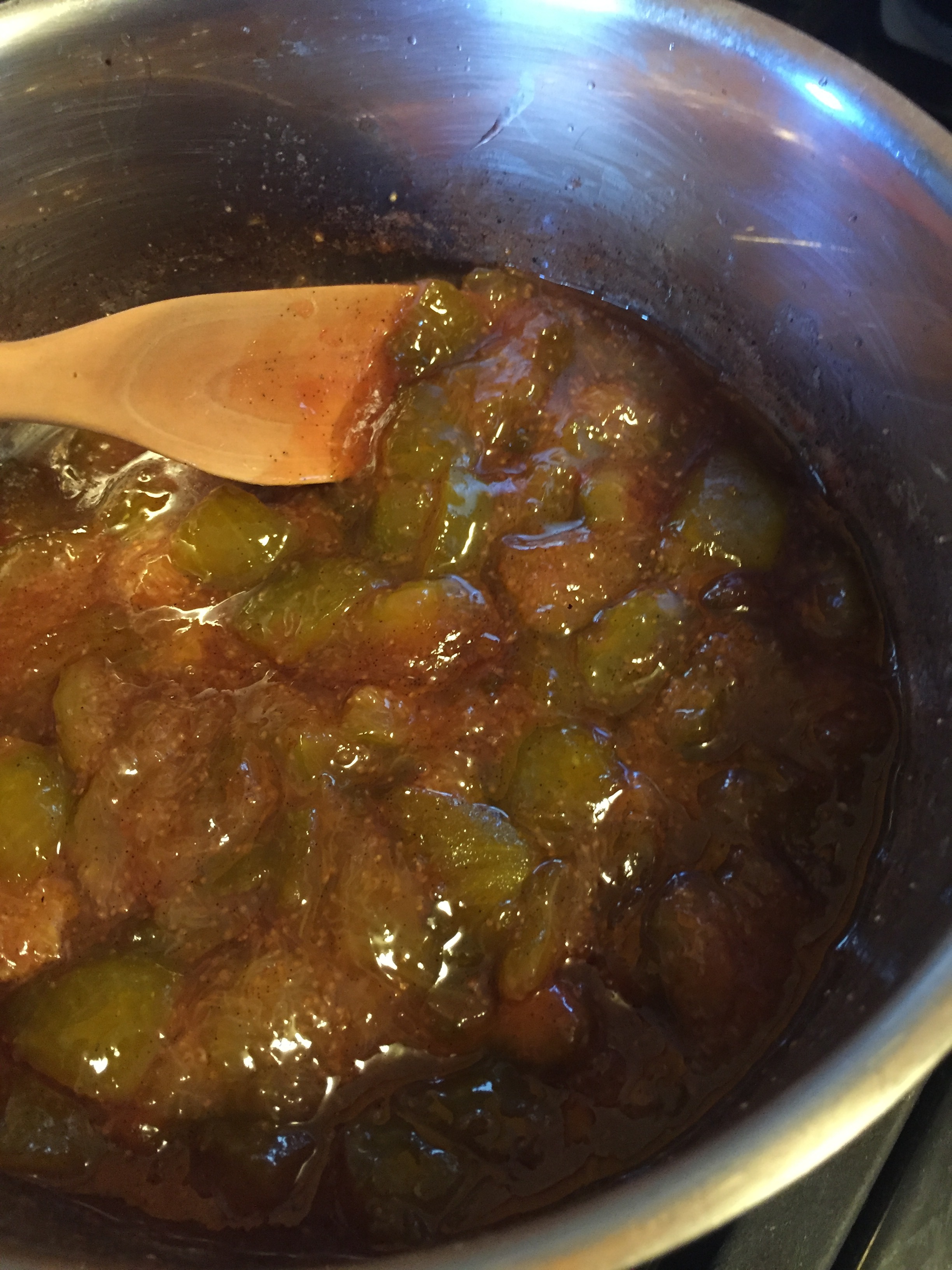 Lumpy Fig Jam
Ingredients:
4 cups chopped figs

3/4 cup sugar

1/4 cup fresh lemon juice

1 split vanilla bean
Throw it all in a pot and bring it to a boil so that all the sugar is dissolved. Then lower the heat to settle in for a 1/2 hour simmer. The finished consistency will be a little thicker than syrup but not jelled. Note the translucent figs - a sign of readiness. This will keep in the fridge for up to 2 months.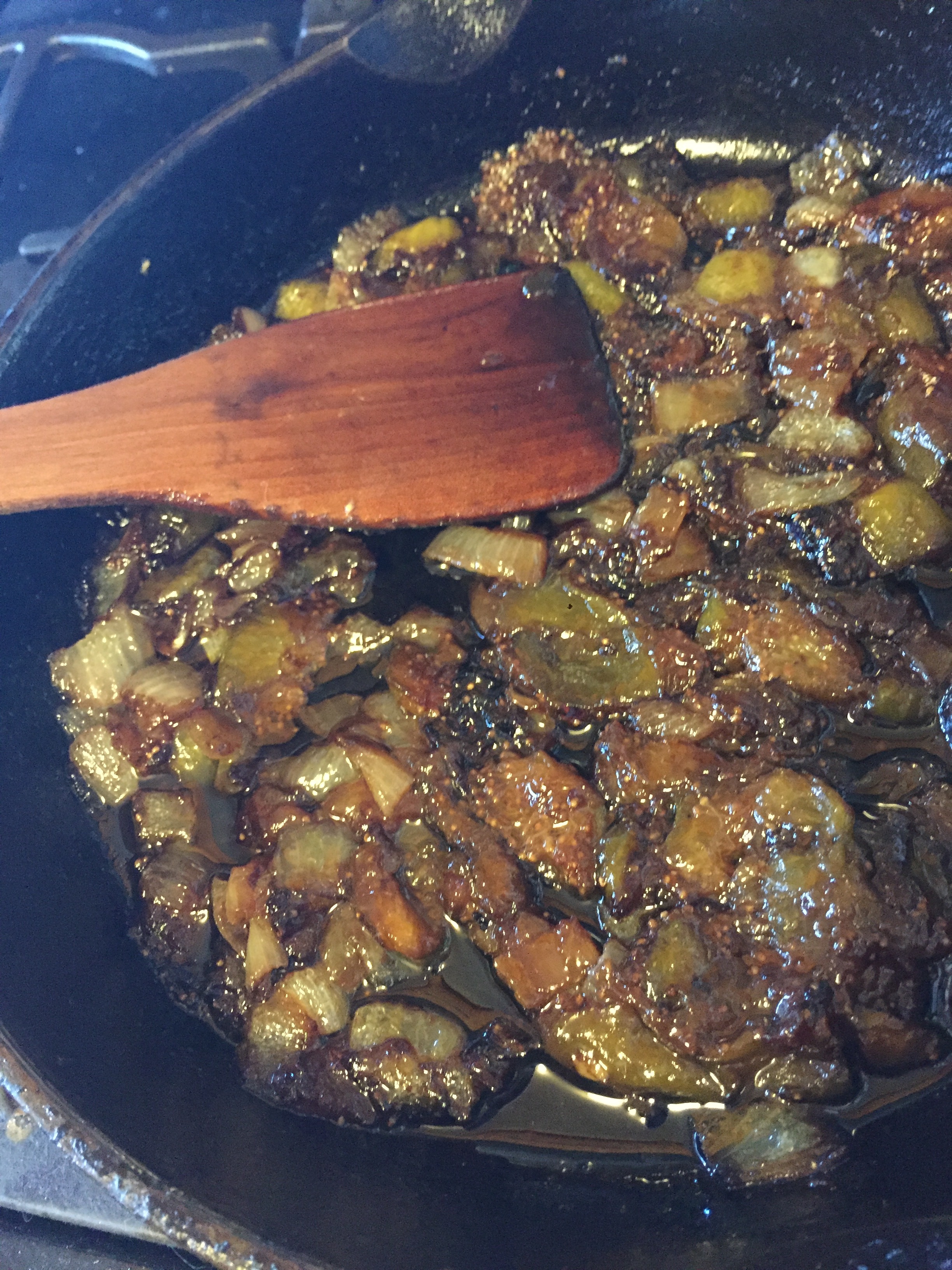 Caramelized Fig Chutney
Ingredients:
1 sweet onion

2 cups chopped figs

1/4 cup olive oil

1/4 cup aged balsamic vinegar

2 pinches of salt
Heat up the oil in a nice old iron pan then add the chopped onion over medium heat. Sprinkle with salt. After the onions start to look translucent around the gills, throw in the figs, stir it all up, and settle in for a while. Get some stuff done. Wipe down that fridge door. clear the dish rack. Do about 10 other things and stir the mix occasionally while waiting for all that good stuff to caramelize.
After 20 or more minutes, add in the balsamic vinegar and stir. This will need another 10 minutes or so. The vinegar is cooking down, but the oil will stick around. Move the mix around the pan now and then. After 10 minutes, you might want to cook it even longer. I trust your judgement on this. You'll know what to do. I like to vary the heat during this phase because a little burn sugar isn't all bad. In fact, I find it intoxicating.
By the way, All that onion and fig cooks down to just 1 cup or so of chutney.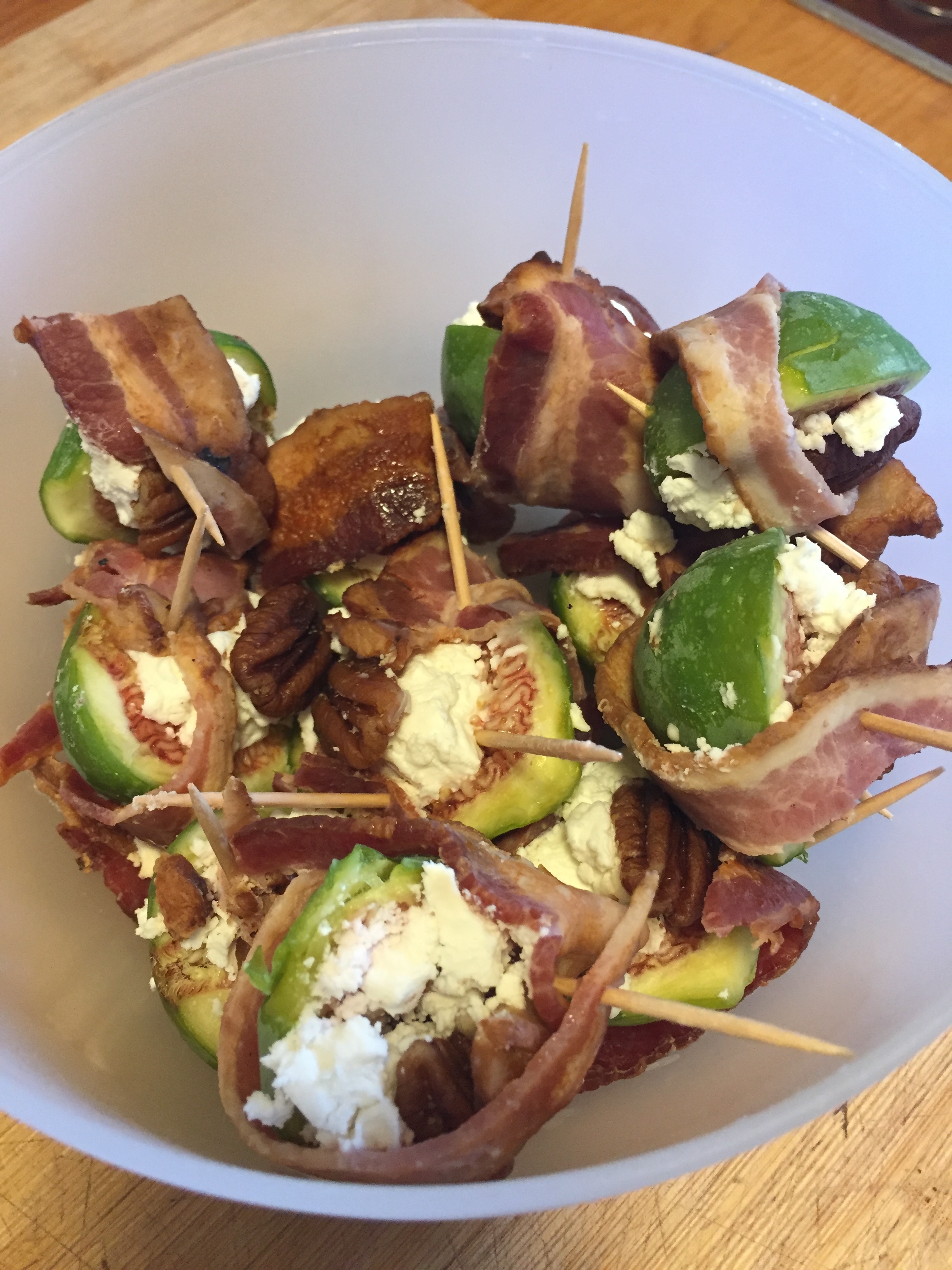 Bacon-swaddled Chevre Pecan Figs
Ingredients:
8 soft cooked (think pliable) bacon strips

8 fresh figs, halved

4 oz. chevre or similar

16 roasted, salted pecan halves
I assemble these by placing a lump of chevre on the fleshy center of a fig half, placing a pecan half on that, and then wrapping with a half strip of bacon.
Instead of cutting bacon strips in half across, I slice them length-wise diagonally. This dials in the flavor proportions. And then I swaddle the half figs, wrapping bacon over the chevre and pecan if possible, or in some cases, just pinning it down however I can. This whole little pile of stuff on a fig gets a bit wonky, so prep these in advance, and then place them on a pan and bake for 5 minutes right before serving.
Here's a triple threat figgy sampler of what willing test subjects tried this afternoon. Flavor ratings ranged between 8 and 11.7 out of 10! These are all fairly easy to make, involve simple ingredients, and allow room for adjustments and variations as you like.
What do you make when faced with a big bowl of fresh figs?